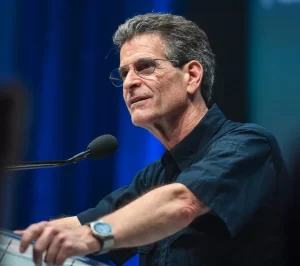 HIGHLIGHTS
A prolific inventor, Kamen is best known for his invention of the Segway and a wheelchair that can climb stairs, known as the iBOT®. Many of his inventions, such as a drug infusion pump, portable dialysis machine and water purification systems were developed to improve the human condition. He is the named inventor on more than 1,000 patents.
An inventor whose goal is to improve lives around the world
Dean Kamen was born into a Jewish family in 1951 on Long Island, NY.  His father, Jack Kamen was a comic illustrator, working for EC comics.  Becoming interested in the application of technology at an early age, Kamen's entrepreneurial spirit began to show when he developed light and sound systems for museums and local bands while still in high school, earning up to $60,000 annually before graduation.
While he was still an undergraduate at Worcester Polytechnic Institute, Kamen developed the first wearable infusion pump, AutoSyringe.  This was a godsend to patients, such as diabetics, who require the steady administration of precise quantities of medication.  Quickly accepted by the medical community, the device enabled patients to lead relatively normal lives while reducing the complications arising from painful daily injections.  Kamen dropped out of college to found AutoSyringe, Inc., to build and sell the device.  When he was only 30 he sold the company to Baxter International and founded DEKA (DEan KAmen) Research and Development Corp.      
Kamen continued to innovate in flow control systems, work which led to the development of a portable dialysis machine.  Up until then, dialysis machines weighted around 125 lbs and patients had to make appointments at a dialysis center.  With the development of the portable machine (22 lbs), patients were able to dialyze at home, even while they were sleeping.
In addition to devices that required fluid flow control, Kamen was interested in developing opportunities for wheelchair-bound patients to become more mobile.  He developed the iBOT, a powered all-terrain wheelchair that balances the user on two wheels but uses additional wheels to allow the wheelchair to climb stairs.  Building on the gyroscopic control used in the iBOT, Kamen subsequently developed a two-wheeled personal transporter, his most famous invention, the Segway.
Kamen has had a long term interest in the Stirling engine, a heat engine based on the cyclic compression and expansion of a gas between different temperatures, resulting in the net conversion of heat energy to mechanical work.  This work led to the development of the Slingshot®, a water purification device running on a combustible fuel source that can produce drinking water from almost any source.  Requiring no filters and being operable using cow dung as a fuel, it was hoped that the device could be used as a source of clean water in developing communities.
The invention that Kamen has said he is most proud of, however, is not one that is patentable.  In 1989 he founded an organization called FIRST (For Inspiration and Recognition of Science and Technology), to increase school students' interest and participation in science, technology, engineering and mathematics (STEM).  In 1992 he, along with MIT Mechanical Engineering professor Woody Flowers, started the FIRST Robotics Competition, an annual high school robotics competition that is now international in scope.  This competition involved 3,200 teams and more than 80,000 students in 2022.  FIRST now has competitions that cover grades K-12, and alumni from the program have access to over $80 million in college scholarships. (In full disclosure, the author has been involved with FIRST since 2008 as a team mentor, competition volunteer and competition judge.)
In recognition of his many achievements, Dean Kamen has received multiple awards, including the National Medal of Technology, the ASME Medal (the highest award from the American Society of Mechanical Engineers) and the Lemelson-MIT Prize, as well as election to the National Academy of Engineering and the National Inventors Hall of Fame.  Additionally, he has been awarded honorary degrees and received the National Science Board's 2018 Public Service Award for contributions to the public's understanding of science and engineering.
Author:  Iain McIntyre