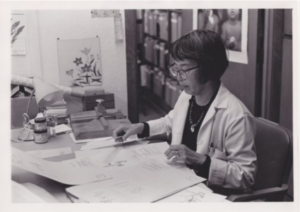 HIGHLIGHTS
"In science, the evidence is the truth. I knew that my work would win the argument. And it did".
Dr. Isabella Aiona Abbott (born as Isabella Kauakea Yau Yung Aiona on June 20, 1919 in Hana, Maui) was a pioneer in many ways.  With an undergraduate degree in Botany from the University of Hawaii at Mānoa in 1941 followed by a master's degree from the University of Michigan in 1942, Dr. Abbott became the first Native Hawaiian to earn a doctoral degree in science from the University of California, Berkeley in 1950. Her academic career began at Stanford University in 1960, where she was promoted to a full Professor of Biology at Stanford – the first woman and first person of color to hold this position.
Dr. Abbott's interest and passion for ethanobotany began as a child learning about Hawaii's cultural, culinary, and scientific knowledge of limu (seaweed) from her mother.  Seaweed is commonly used in traditional Hawaiian dishes and Dr. Abbott's conversations with Hawaiian elders helped her gain a deeper understanding of these practices. She used her work to not only promote the cultivation and use of algae but also, and more importantly, to preserve ancient traditional practices and knowledge.  She used her research on marine algae to promote the use of plants to develop healthy marine ecosystems, and adapted recipes to use local algal species – including seaweed cake.