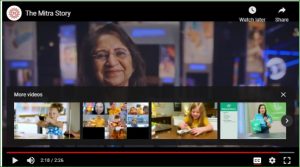 The Mitra Story (click here to view a short video).
National Inventors Hall of Fame Museum, 2018
HIGHLIGHTS
Dr. Sumita Mitra invented the non-composite and versatile dental filling material Filtek™ Supreme Universal Restorative. This innovative discovery can restore teeth in any area of the mouth and has been used in over 600 million dental implant procedures since its development in the 1990s. 
Born and raised in India, Dr. Mitra earned her undergraduate degree in chemistry from India's Presidency College and her master's degree in organic chemistry from the University of Calcutta. She came to the United States for graduate studies and earned her doctorate in organic/polymer chemistry from the University of Michigan.
Working as a corporate chemist at the 3M Company ESPE Dental products Division beginning in the 1990s, Dr. Mitra and her team invented the first dental filling material to include nanoparticles. The Filtek™ Supreme Universal Restorative is a versatile material using true nanotechnology to restore teeth in any mouth area. The material offers exceptional esthetics, has excellent polish retention with natural-looking fluorescence, and exhibits outstanding strength for anterior and posterior teeth. The product continues to be successful with a choice of 36 shades and four opacities, giving excellent wear resistance and exceptional handling for practitioners.
Her subsequent inventions have led to several breakthrough dental technologies, including nanocomposites, resin-modified glass ionomers, and dental adhesives. Other products that have resulted from her innovations include Viteremer™ and Vitrebond™ Resin-modified Glass Ionomers, RelyX™ Luting Cements, Scotchbond Multipurpose™ Adhesive, and APC™ Orthodontic Bracket Adhesive.
Dr. Mitra retired from 3M in 2010 and co-owns Mitra Chemical Consulting, LLC, with her husband. The company specializes in chemistry, formulation, and product development in dental and orthodontic materials, adhesives, biomaterials, functional coatings, cleaning chemicals, cosmetics, skin and hair care products, edible oils, and food safety technologies.
Her work doesn't stop there. Dr. Mitra provides short courses and webinars at various academic institutions, professional societies, and Fortune 500 companies on Innovation. She is an internationally recognized lecturer and author, with 99 US and corresponding OUS patents, 100+ publications, and presentations globally (43 countries), including ten chapters in 8 books.
She currently serves as a volunteer Board Member for the Ordway Circle of Stars and the Minnesota Independent Schools Forum.
Dr. Mitra has received recognition and awards from the following organizations:
Elected to National Academy of Engineering
Hollenback Memorial Prize
National Inventors Hall of Fame 2018 Inductee
Peyton Skinner Award
Heroes of Chemistry
ACS Regional Industrial Innovation Award
CARLTON SOCIETY
Dr. Mitra's commitment to innovation, education, excellence, generosity, and community is an inspiration to scientists and citizens as we gratefully recognize her contributions during Asian American and Pacific Islander Heritage Month.
Author: Saukshmya Trichi
Sources:
https://www.invent.org/inductees/sumita-mitra
https://artsandculture.google.com/asset/the-sumita-mitra-story-national-inventors-hall-of-fame/_QF5R9hns0V_tA?hl=en
https://lsa.umich.edu/chem/news-events/all-news/search-news/alumna-sumita-mitra-inducted-into-national-inventors-hall-of-fam.html
Filtek™ Supreme Ultra Universal Restorative | 3M United States