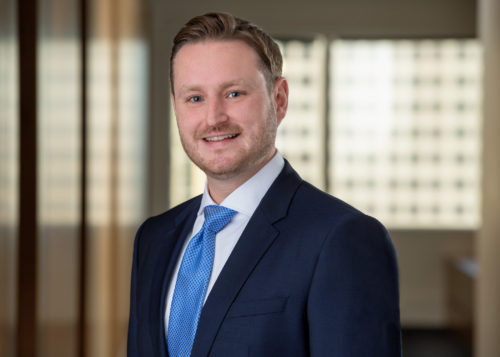 Sam Lockner concentrates his practice on intellectual property (IP) litigation and monetization. He has served as lead counsel on numerous patent litigations, including cases involving chemical and life science technologies. Sam also has served as lead counsel for disputes involving trade secrets, Lanham Act claims, and trademarks.
Many of Sam's cases are patent disputes filed under the Hatch-Waxman Act. He has litigated numerous types of drugs and formulations, including lenvatinib (Lenvima®), palbociclib (Ibrance®), afatinib (Gilotrif®), ibrutinib (Imbruvica®), tavaborole, (Kerydin®), lansoprazole ODT (Prevacid Solutab®), clindamycin phosphate (Evoclin®), tadalafil (Cialis®), cinacalcet (Sensipar®), regorafenib (Stivarga®), deferasirox (Exjade®), bortezomib (Velcade®), erlotinib (Tarceva®), glycopyrrolate oral solution, (Cuvposa®) memantine extended-release (Namenda XR®), oxycodone (OxyContin®), pantoprazole (Protonix®), megestrol acetate (Megase® ES), sumatriptan and naproxen sodium (Treximet®), dexmethylphenidate extended-release (Focalin XR®), dexmethylphenidate immediate release (Focalin®), methylphenidate extended-release (Ritalin® LA), and methylphenidate immediate release (Ritalin®)
Sam also represents companies in the biotechnology, biomedical device, bio-agricultural, and other related industrial sectors, both as plaintiffs and defendants, and in Inter Partes Review ("IPR") proceedings. He has represented numerous clients in trademark matters before the Trademark Trial and Appeal Board ("TTAB"). In addition to contested matters, Sam counsels clients on how to protect and monetize their IP portfolio, including trade secret protection, out-licensing efforts, and creation of joint development or research arrangements. By way of example, Sam co-led a Carlson Caspers' team in a multi-phased, global monetization strategy relating to the breakthrough CRISPR technology and also closed a licensing deal valued at more than $40 million for a biotechnology company.
Sam is active in the legal community and performs pro bono work, including for the Children's Law Center and the Minnesota Innocence Project. He is on the Board for the Fund for Legal Aid and the planning committee for the Midwest IP Institute.
Sam frequently publishes and speaks at domestic and international conferences on IP issues. Recent publications and presentations include:
Litigation Funding: Considerations and Strategies, "Midwest Intellectual Property Institute 2020 (Minneapolis, MN)
"Expert Perspectives on the Rapidly Evolving Cannabis Industry," at Midwest Intellectual Property Institute 2019 (Minneapolis, MN)
"Protecting IP in Manufacturing and Distribution Relationships: Helsinn and More," at Midwest Intellectual Property Institute 2018 (Minneapolis, MN)
"Navigating the Interface between IPRs and Patent Litigation," at World Intellectual Property Forum 2018 (Dubai, UAE)
"Perspective from the U.S. with Gene Therapy: Trends Before the Patent Office, District Court Litigation, and Licensing Strategies," at BIO Korea 2017 (Seoul, South Korea)
"Strategy Considerations for Patent Enforcement Worldwide: A Panel of International Experts," at Midwest Intellectual Property Institute 2017 (Minneapolis, MN)
"Ask Questions First, Then File: The Importance of Pre-Suit Investigation," at Midwest Intellectual Property Institute 2016 (Minneapolis, MN)
"Patent Disputes in the Medical Device Field–2016-17," Book Chapter in Midwest Intellectual Property Institute (2017)
AWARDS
Listed in The Best Lawyers® in America© for Litigation-Intellectual Property (2020-23)
Recognized as BEST LAWYERS for Litigation (2020)
Ranked in Petexia's ANDA Litigation Intelligence Report 2020 as
– Top 15 Most Successful and Best Performing ANDA Attorneys
– Top 100 Attorneys Representing Defendants
– Top 100 Most Active ANDA Attorneys Overall Representing Plaintiffs and Defendants
Named a Super Lawyer®/Rising Star® for Intellectual Property Litigation (2008-present)

EDUCATION
Boston University School of Law
J.D., cum laude
Health Law Concentration with honors
Dean's Award for Trademark and Unfair Competition
University of Minnesota
B.S., Genetics Cell Biology and Development
BAR ADMISSIONS
Supreme Court of the United States
U.S. Court of Appeals for the Federal Circuit
U.S. Court of Appeals for the Eighth Circuit
U.S. District Court for the District of Minnesota
Minnesota Supreme Court