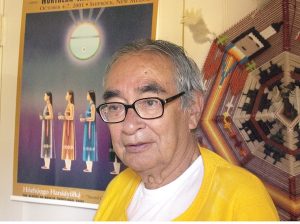 HIGHLIGHTS
Dr. Fred Begay (Clever Fox) Navajo Clans: Tachii'ni (Red Running into the Water People), Kin lichii nii (Red House People) was born to Navajo parents who practiced Navajo/Ute traditional tribe rituals. He was the first member of the Navajo Clan to receive a Ph.D. in physics.

Fred Begay was born in Towaoc, Colorado, on the Ute Mountain Indian reservation, on July 2, 1932. Fred attended the Bureau of Indian Affairs Boarding Schools at Ignacio, Colo. (1942-1946) and Albuquerque, New Mexico (1947-1951), where his training was in farming. Fred spoke little to no English and had to learn the language.
After graduation, Fred joined the U.S. Air Force in 1951 and was stationed in Korea in an air-rescue unit. He participated in the closing stages of the Korean War and served until 1955.
In 1952, he married Helen Smith from Shiprock, Navajo Nation, and they had seven children.
After military service,  Fred returned to Ute Mountain to work as a farmer. Shortly after, the Navajo nation recruited him to attend college.  Fred was accepted to the University of New Mexico.
Still, given his lack of college-preparatory education, he took remedial classes to "catch up" while completing his college curriculum. A successful and determined student,  Fred received his Bachelor of Science degree (B.S.) in math and science in 1961, his Master of Science degree (M.S.) in physics in 1963, and his doctorate (Ph.D.) in nuclear physics in 1971.
During his graduate work at the University of New Mexico,  Fred worked on a NASA-funded space physics research team studying the origin of high-energy gamma rays and solar neutrons. He also held research and teaching fellowships at Stanford University and the University of Maryland.
Fred joined the physics staff at the Los Alamos National Laboratory in 1971, where he worked until his retirement. At Los Alamos,  Fred's research focused on thermonuclear fusion, including the use of lasers, electrons, and high-energy ion beams to heat plasmas for alternative sources of energy.
Fred was described by colleagues as a deep thinker and enjoyed discussing how his research aligned with Native-American teachings. His research did not lead to any patents, but physics researchers still cite his writings today.
Fred also spent significant time volunteering within the Navajo community and provided science and technology expertise to the following institutions:
Chairman to the Navajo Nation's Environmental Protection Commission (1974-1976)
Principal Investigator, NSF-funded Navajo Research Committee, Navajo Community College (1972-1976)
Advisory committee to the Board of Science and Technology for International Development, US National Academy of Sciences (1979-1981)
Member National Research Council (1979-2013)
Co-principal Investigator, NSF-funded Alliance for Minority Participation Program, Arizona State University (1991-2013)
Advisory committee, NSF-funded Arizona Collaborative for Excellence in the Preparation of Teachers, Arizona State University (1995-2000)
Advisory board, NSF-funded Navajo Nation Rural Systemic Initiative Program (1998-2013)
Advisory board, Center for Research on Education in Science, Mathematics, Engineering and Technology, Arizona State University (2000-2013).
His life has been documented in the following films:
Nation within a Nation (Hearst Metrotone News, 1972)
In Our Native Land (Sandia Laboratory 1973)
The Long Walk of Fred Young-Begay (British Broadcasting Corporation and NOVA, 1978)
Dancing with Photons (KNME-TV, 1997)
He has also been featured in the National Geographic Magazine (1987, Notable Twentieth Century Scientists, Gale Research, Inc., 1994, and numerous published articles in newspapers, magazines, and textbooks.
Fred has received the following awards:
Ely Parker Award, American Indian Society for Engineering and Science, 1992.
Lifetime Achievement Award, National Science Foundation, 1994.
Distinguished Scientist Award, Society for the Advancement of Chicanos and Native Americans in Science, 1999.
Fred has also received other awards from the Department of Energy and the Navajo Tribe for his work in science, science education and public service.
Upon his retirement, one of his main goals as president of the Seaborg Hall of Science was to continue to provide public services to the Native American communities for science and technology. The Seaborg Hall of Science named after the late Nobel chemistry laureate Glenn T. Seaborg is an independent non-profit education and research institution. His family continues to support his commitment to this institution.
Dr. Begay died at age 80 in New Mexico in 2013.
AUTHOR: Brad Micsky
To learn more about Carlson Caspers' commitment to Diversity & Inclusion, click here.
To apply for the Carlson Caspers Diversity & Inclusion Scholarship and meet past recipients, click here.
To learn about Carlson Caspers' engagements with organizations committed to diversity and inclusion in the legal profession, click here.
To learn about other featured inventors, click here.