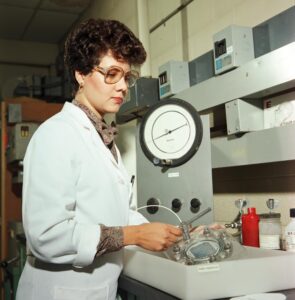 HIGHLIGHTS
Olga D. González-Sanabria in her lab in 1985, received the Presidential Rank of Meritorious Executive and the Hispanic Engineer National Achievement Awards Conference's Executive Excellence Award in 2007.
In 2022, the stars have never been closer. In the past 50 years, space travel has improved by leaps and bounds, none of which would have been possible without the contributions of Olga D. González-Sanabria, an engineer and researcher born and raised in Patillas, Puerto Rico. Crediting the energy crisis of the 1970s and plain luck, González-Sanabria found an interest in chemical engineering as a high school senior during a visit to a university career day. This interest led González-Sanabria to attend the University of Puerto Rico at Mayagüez, where she obtained a Bachelor of Science in chemical engineering.
Following graduation, González-Sanabria moved to Cleveland, Ohio, to work at NASA's Glenn Research Center in 1979 while simultaneously completing a master's degree in chemical engineering at the University of Toledo, which she received in 1985. As a young researcher, González-Sanabria's work focused on energy storage technologies for improving space exploration. As part of a research team in NASA's Electrochemistry Branch of the Solar and Electrochemistry Division, González-Sanabria worked on advancements in nickel-hydrogen fuel cells. Her contributions resulted in improved separators that isolate oxidation and reduce voltage loss, extending fuel cell battery life and space travel capabilities. This new battery, the long cycle-life nickel-hydrogen battery, which can run for 10-15 years on average, is used to help power the International Space Station.
Not only did González-Sanabria contribute to developing the long cycle-life nickel-hydrogen battery, but she also contributed to over 30 technical papers and is an inventor of a patent directed at separator technology for alkaline batteries. She continued to work on research development until, in 1995, she moved into management at NASA. As the executive officer of the Glenn Research Center, González-Sanabria was responsible for planning, organizing, and managing the center's programs. Seven years later, she was appointed to Senior Executive Service in charge of the Systems Management Office, the first Latina woman to serve in this position at the Glenn Center.
For nine more years González-Sanabria would continue to manage the center's engineering design, fabrication, and systems engineering, until her retirement in 2011. Now, González-Sanabria continues her passion for engineering through her involvement in various organizations as a mentor for young Hispanic women engineers. She hopes that the increased visibility of Hispanic women engineers will encourage younger women to pursue engineering careers and help them realize their opportunities.
Over the years, González-Sanabria has been recognized for her crucial advancements in the engineering world. In 1998, her research group received an R&D 100 award for long cycle-life nickel-hydrogen batteries. Her work in designing experiments earned her an Exceptional Service Medal in 1993, and in 2007 she received the Presidential Rank of Meritorious Executive and the Hispanic Engineer National Achievement Awards Conference's Executive Excellence Award. González-Sanabria inducted into the Ohio Women's Hall of Fame in 2003 and she was also inducted into the Glenn Research Center Hall of Fame for her outstanding work over 32 years of service with NASA in 2021.
Authors: Keane Nowlan, JD Candidate and Tara Norgard, Carlson Caspers, Shareholder mentor
To learn more about Carlson Caspers' commitment to Diversity & Inclusion, click here.
To apply for the Carlson Caspers Diversity & Inclusion Scholarship and meet past recipients, click here.
To learn about Carlson Caspers' engagements with organizations committed to diversity and inclusion in the legal profession, click here.
To learn about other featured inventors, click here.