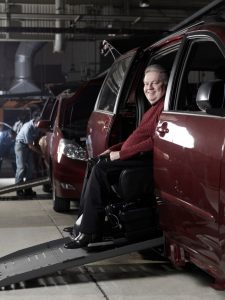 HIGHLIGHTS
Ralph started Braun Corporation which is the worldwide leader of wheelchair accessible vehicles and lifts. 
Ralph Braun was diagnosed with muscular dystrophy at a young age. The disease causes progressive weakness and loss of muscle mass, and he soon lost his ability to walk. By the age of 14, Ralph was dependent on a wheelchair. Ralph's doctors told his parents that he would never be able to lead an independent life, but both he and his parents were determined to prove them wrong—and so they did.
Ralph began college at Indiana State, but found it very difficult to navigate the campus in a standard wheelchair. He dropped out and set his mind to designing a battery-powered scooter to improve his mobility and his independence. Ralph recounted that his uncles were all "gearheads" who played with racecars and motorcycles. He hung around them a lot and developed an aptitude for working with mechanical technologies. It took Ralph about four months, but he eventually built the world's first motorized scooter in his cousin's garage.
After that, Ralph began work at an automotive supply factory, using his self-designed scooter to get around the factory floor. People would often approach him to say they knew someone who would benefit from a motorized scooter like his, and so for years, Ralph spent part of his time building battery-powered scooters for those who asked.
Ralph subsequently designed a conversion system for a van so that he could drive it from his wheelchair. He also designed a wheelchair lift, like those now seen ubiquitously on public busses around the country. Like the scooter he developed earlier, people began requesting that he make similar lifts and modifications to vehicles for others who could use them.
In 1973, Ralph started to focus full time on building his own business focused on the scooters, lifts, and accessible vans he had developed. The company he started, Braun Corporation, grew substantially over the next several decades and today is a worldwide leader of wheelchair accessible vehicles and lifts. In 2012, Ralph Braun was honored by President Barack Obama as a Champion of Change, for leading education and employment efforts in science, technology, engineering, and math for Americans with disabilities.
Author: Alex Rinn
To learn more about Carlson Caspers' commitment to Diversity & Inclusion, click here.
To apply for the Carlson Caspers Diversity & Inclusion Scholarship and meet past recipients, click here.
To learn about Carlson Caspers' engagements with organizations committed to diversity and inclusion in the legal profession, click here.
To learn about other featured inventors, click here.