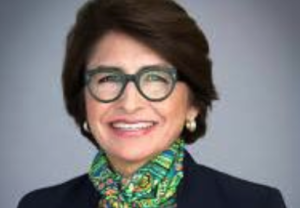 HIGHLIGHTS
In honor of Hispanic Heritage Month Carlson Caspers celebrates the inspiration and advocacy of Sylvia Acevedo, Rocket Scientist | Board Member | Tech Executive | Entrepreneur | Speaker | Author.
Sylvia Acevedo: Inspiration and Advocacy for the Next Generation of Inventorship 
Carlson Caspers celebrates National Hispanic Heritage Month with a chat with Sylvia Acevedo, former CEO of Girl Scouts of the USA, rocket scientist, innovator, author, and business leader.  
Q: Did you always know that you wanted to be a scientist or an innovator? 
A: I don't know if I always knew, but when I was a 7-year-old girl in Girl Scouts, my troop leader saw me looking at the stars while at camp. She really helped me to see that there were constellations and planets and I realized that there was a system to it all. At the same time, there were people—in the US—that were going to the Moon, and that really sparked my interest in science. As a young girl I was very competitive with my older brother, and I realized I could do anything he could do. When I saw these men doing things in space, I realized that they were males like my brother, and if they could do something, then I could do that too. I really focused on stripping away the gender and everything and I focused on what they did, which was math and science.  
I'm really glad I ended up in engineering because I am a systems thinker; I really gravitated to the field because it's people and processes coming together in a system—it' s not just about machines or technology but also about the people interface and optimization.  
Q: You went from being a young Girl Scout to eventually becoming one of the first Hispanic engineers to graduate from Stanford. What was that journey like? 
A: I didn't realize that fact until many years later, when somebody was doing research at Stanford and out of the blue the researcher called me and said, "we're trying to figure out how it was that you got to Stanford and then you did well and then you had this amazing career, because at that time Stanford really wasn't recruiting from that part of New Mexico. So how did that happen?" I was very grateful for that researcher because I hadn't really thought about it—why did that happen?  
It was a combination of things. For one, my fourth grade teacher (Mrs. Baldwin) was very ahead of her time. She showed all of us in her class photos of major universities and when she showed the green hills and the red tile roof and the limestone buildings of Stanford, I just blurted out that I wanted to go there. Mrs. Baldwin walked over to my desk and looked at me and said, "it's one of the best schools, not only in the country, but in the world," and then she said, "and you're a smart kid and you can go there." That nine-year-old believed her and I just set that goal and that intention that I was going to go there so I started working really hard at figuring out what is it you need to do to get to a place like Stanford.  
Q: It sounds like Mrs. Baldwin was a really big inspiration for you as a child. Would you say there were other innovators or scientists who also really inspired you on your path? 
A:  Yeah, you know people don't think of them as innovators, or scientists or even inventors, but I read everything I could about Florence Nightingale and Clara Barton. I was so fascinated by them that everybody thought I was going to be a nurse. In actuality, Florence Nightingale was also a mathematician—at that time they didn't teach girls math, but her father taught her math on the side—and she also became a nurse, one of the few professions open to women at the time.  While serving on the front lines of the Crimean war she figured out that there had to be a better way of treating injured soldiers. She used her statistical training to develop a new methodology, the triage process, that would significantly reduce casualties.  No one believed her, or her math, so she went to a cartographer to depict the statistics in picture form. He created a chart, and with a "picture is worth a thousand words" people understood the benefit of her triage system. To this day we still use the method of triage, which Florence Nightingale pioneered. 
Clara Barton was really a systems thinker, too. During the Civil War, the U.S military hadn't really implemented the railroad system for distribution, but Clara Barton created a new distribution system—a hub and spoke system—that the Army then adopted. Not only that, but she created the first aid kit, and also started the American Red Cross, so I'd say she was an inventor too.  
Q: It sounds like you were really inspired by the sort of interdisciplinary thinking that both Clara Barton and Florence Nightingale embraced.  
A: I think that's what really appealed to me about them. They were both inventors and they both made linkages across disciplines that made lasting improvements in their fields. 
Q: Would you say that these are still women who continue to inspire you to this day? Are there other figures who still serve as an inspiration for you? 
A: Yes, they still inspire me to this day. There's a lot of amazing women doing really great work now and so I am really grateful for so many people who put so much effort to open doors of opportunity for me and others. I was fortunate to be a trailblazer, but other people helped set up the doors of opportunity and I was one of the first to walk through, so I'm very grateful for that. It's one of the reasons I really care about giving back, and keeping those doors open, and inspiring the rising generation because I think it's really important that they see that there's hope, there are opportunities, and there are ways they can contribute as well.  
Q: Standing on the shoulders of giants? 
A: Yes, absolutely.  
Q: I noticed that you actually have a patent application, which I thought was really interesting. Can you tell me more about that?
A: I was starting to do work in education, and I saw a lot of the parents in Texas who were from Mexico but their children were born in the US. Prior to 9/11, there had been a pattern of circularity where workers would come from Mexico, do work here, and then go back to Mexico. Post 9/11, the border was effectively shut, so men and women would come here looking for work and then they stayed because the border was shut but the need for workers in different trades, such as construction, landscaping and hospitality and housekeeping kept increasing as the economy grew. Many of these parents didn't speak English, but worked in different trades, like housekeeping, lawn work, construction so I created these communication devices, which is what the patent was for.  
Q: How did those communication devices work? 
A: They were called CommuniCards and they illustrated different tasks in a card deck.  I forget how many cards there were, but they had the most common house tasks on them. If you wanted someone to do something, you'd just leave out the cards that you wanted, and they could use the card to communicate back. They would have different trades, painting, etc. For example, you could say, "I need two coats of paint, or three coats, or I need a primer," and you could communicate pretty easily. 
We sold quite a few of them and then 2008 came, and it was really a tough market so I just sort of switched more to a services consulting business.  
Q: I see you're the named inventor—how did you find the process of filing and prosecuting that patent? 
A:  It was really challenging, to be honest, especially if you're not from the legal world of patents. For one, there's a whole language around intellectual property so you must learn that terminology and also make sure that you have something that is unique and different.  
I also think people don't realize you can process systems and process as well as your ideas or inventions. At the time, I was helping a lot of different women with patenting and inventing their ideas as well, and a lot of times they didn't think they had worthy ideas because they thought it was just a workaround. But they had unique products and process, they just had to put the "legalese" around it. You've got to protect your idea and protect your concepts. There are all sorts of things that can be patented.  
Q: You've actually gone and you've talked to other women about patenting and the process. Could you speak a little bit more on that experience? 
A: I was meeting all of these women in the 2000s, and a lot of times they were really trying to figure out a different way to do things. At least in my industry, software, hardware, technology, etc., sometimes we just think about inventorship as very capital intensive. But there are a lot of other opportunities that are maybe not as capital intensive that you can create. A lot of trying to help them was just thinking about the problem they were trying to solve, and determining what the workaround product was and what was unique and patentable. 
It's really fun being with inventors because they're always trying to figure out another way of doing something different, always trying to work around or re-engineer or solve problems and that's a really fun energy to have around.  
Q: In speaking with these inventors, did you notice that there were any particular challenges facing inventors of today? 
A: Yes, legal protection of their ideas. I know it sounds cumbersome but you've got to have your NDAs. Many times people did not use them even though there's a lot of great low-cost forms available online. It also really increases the professionalism and the respect that people have if you ask them to sign an NDA. You've spent a lot of time, and you figured something out, and maybe it becomes obvious once you've done it, but it's really your idea so you need to protect it. I find a lot of times, people just don't do that enough.  
The other thing is to really ask around and negotiate with lawyers. You can ask around and find someone who isn't prohibitively expensive. I find that people stop their work because they think it's just too expensive to patent or to do the next legal protection, but it's really important to protect your ideas.  
Q: I was going to ask you if you had any fun or new projects coming down the pipeline but given our talk about the NDA and protecting maybe that's not the best question.  
A: [Laughter] No, no—so right now I'm really working on writing a lot about what I know to share with the rising generation. Having been a trailblazer, there's a lot of things that I did that are still applicable to this day that I think can help professionals in their careers and I really want to help share that information to inspire them. When I look at people in corporations or large partnerships and they say, "oh it's just really hard," I don't diminish that, but I know that when I was starting, there weren't people like me at all. I didn't give up, and some of the tactics and success strategies that I used are still incredibly valuable to this day. 
I'm working on creating a LinkedIn Learning class, and I'm working on writing some of these things down and putting them down in books, and obviously in my professional speaking as well.   
Q: I know you wrote Paths to the Stars, and that was a book that was more geared towards younger women in school. With the LinkedIn learning class, and other writing, would you say you're hoping to target some other demographics in your upcoming projects?  
A: I have to say my largest following right now are South Asian women from India. I hear about these gender norms in their culture, and that's something I experienced as well through my Mexican culture. I get a lot of calls from young women asking for advice.  
When I go to large companies to speak, I will often get a follow-up from somebody who doesn't know how to ask for something they want, like a raise or a promotion or shares in the company. I had to learn the hard way—one of the biggest mistakes women make is that … we expect our managers to know what we want without them saying it. It's like, my performance should speak for itself, but that's not how it works. Now, I'm very committed to helping other women advocate for themselves and when they do, they find tremendous success.  
Q: It's really great that you've been creating more resources for women coming after you. When you say you've learned all these lessons the hard way, were there any resources that were available to you at the time? 
A: I've got to say, a lot of times, this was a learning by trial and effort, and sometimes I'd get it wrong. I was really driven to figure out how I could be successful. I wasn't what people thought of as a Silicon Valley engineer, so when I finally found a way in and to work my way up, I realized that I first had to show that I belonged, to show that I understood the way things work. And when I found a better way of doing something, I would present that innovative idea after I showed that an approach that was consistent with the status quo. I didn't go in there just being innovative, the managers also saw that I understood the process and that I could also bring "value add" to the process. Later in my career, I realized whenever I got somewhere new, I needed to show them "I get it, I get this is how this is done here, so here's how you would do it that way, but maybe here's another way of doing it." 
Q: Final thoughts—do you have any messages or advice that you'd like to share with aspiring innovators?  
A: Whatever it is you want to do, it is so important that you have the courage and the confidence to go after your dreams. The first person you must convince is yourself, because once you've convinced yourself that you can do this, you're going to be unstoppable. Focus on what gives you energy, and where you provide a value add, and the change you can make can change the world. 
Interview has been edited for clarity.  
Interviewer:  Katherine Chen.  
To learn more about Carlson Caspers' commitment to Diversity & Inclusion, click here.
To apply for the Carlson Caspers Diversity & Inclusion Scholarship and meet past recipients, click here.
To learn about Carlson Caspers' engagements with organizations committed to diversity and inclusion in the legal profession, click here.
To learn about other featured inventors, click here.