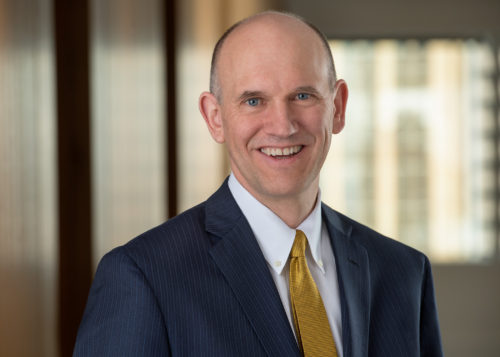 Derek Vandenburgh is the rare combination of a winning jury trial lawyer and a nationally recognized Federal Circuit appellate advocate.  Derek has a track record of winning patent verdicts as a first-chair trial lawyer, and is also one of the most active Federal Circuit advocates in the nation.  His record and results are unmatched by anyone else in patent litigation today.
Derek is a founding partner at Carlson Caspers, a leading IP and litigation law firm in Minneapolis, MN.  Derek's 25+ years of experience includes extensive litigation and patent law challenges in high-stakes patent and intellectual property cases in courts throughout the United States, including federal courts, district courts, and at the U.S. Patent and Trademark Office (USPTO).
Derek has briefed and successfully argued a prolific number of appeals at the U.S. Court of Appeals for the Federal Circuit and served as lead counsel in numerous Inter Partes Reviews and other contested proceedings before the USPTO Patent Trial and Appeal Board.
Derek's practice at Carlson Caspers emphasizes efficient litigation management, successful dispositive motion practice, diligent appellate work, and sound litigation counseling. He has been lead counsel at multiple jury trials and taken the leading role on dozens of claim construction and other dispositive motions on a wide variety of litigation matters, including disputes concerning patents, trademarks, trade secrets, and design patents.
Earlier in his career, Derek worked in the area of patent prosecution and clerked for the Honorable Giles S. Rich of the U.S. Court of Appeals for the Federal Circuit. He has taught Intellectual Property Moot Court at the University of Minnesota and patent litigation at Mitchell Hamline School of Law.
Derek serves on the firm's Board of Directors, Diversity and Inclusion Committee, and Management Committee.  Derek is a frequent speaker and moderator for bar associations and professional legal organizations, such as The Knowledge Group. He represents Carlson Caspers at the Twin Cities Diversity in Practice organization and frequently contributes his time and leadership to Mid-Minnesota Legal Aid, the Federal Circuit Bar Association, and other legal and community organizations.
Derek ranks in the top tier of private-practice attorneys by several prestigious legal organizations and publications, including Chambers USA (leading practitioner); Best Lawyers (Lawyer of the Year, Intellectual Property, Minnesota); Best Lawyers (Patent Law, Minnesota); Managing IP Magazine (Americas 2020 Awards – Outstanding Litigator: Minnesota, IP Stars); Minnesota Super Lawyers (listed every year since 2005), and the 2019 edition of IAM Strategy 300 – The World's Leading IP Strategists.
In his free time, Derek enjoys his family, music, and snow skiing.
EDUCATION
George Washington University
J.D., with highest honors, 1989
Iowa State University
B.S., Physics, 1985
BAR ADMISSIONS
Illinois Supreme Court
Minnesota Supreme Court
U.S. District Court for the District of Minnesota
U.S. Court of Appeals for the Federal Circuit
U.S. Patent and Trademark Office
U.S. Supreme Court