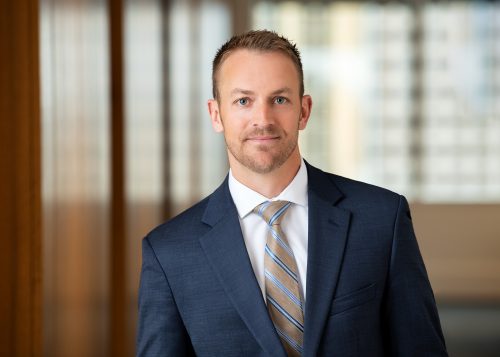 Joe is a litigator at Carlson Caspers who focuses primarily on patent, trade secret, trademark, licensing and contract disputes. He has worked on matters involving a wide array of established and emerging technologies, from apparel, lawn care, concrete retaining wall blocks and paint, to complex optical, medical, telecommunications and three-dimensional printing products. Drawing on this broad experience, and his degree in mechanical engineering, Joe quickly identifies the core issues facing his clients and develops solutions that meet the unique business, competitive and legal challenges they face.
Joe has extensive trial experience and has been integrally involved with a number of multimillion-dollar Carlson Caspers trial wins. He has also counseled clients in relation to International Trade Commission (ITC) matters, Patent and Trademark Office review proceedings, and has been involved in numerous federal and state court actions involving contractual, trademark and trade secret disputes.
In addition to litigation work, Joe advises his clients on patent portfolio management, pre-acquisition and joint venture due diligence, and provides freedom to operate opinions. He has conducted IP portfolio investigations on behalf of leading innovators in a number of technology areas, including medical implants, pacemakers, surgical instruments, telecommunications and three-dimensional printers. Joe also worked on the development and ultimate sale of a large patent portfolio relating to 4G wireless communication technologies.
Joe is a member of the Leaders Council for the Legal Services Corporation (LSC), the single largest funder of civil legal aid for low-income Americans in the nation, and also serves on LSC's Opioid Task Force. He has repeatedly been named a "Rising Star" in Minnesota Super Lawyers.
EDUCATION
University of Minnesota Law School
J.D., magna cum laude
University of Notre Dame
B.S., Mechanical Engineering, summa cum laude
Tau Beta Pi
BAR ADMISSIONS
Minnesota Supreme Court
U.S. District Court for the District of Minnesota
U.S. Court of Appeals for the Federal Circuit
U.S. Supreme Court